I paint because I just have to – creating art is a defining part of my existence.
I grew up in Cumbria, spending many dreamy holidays in the Scottish Highlands. I have travelled widely, &  lived and worked in London, Spain,  & Paris working as a Cordon Bleu Chef & having a competitive fencing career. I spent 5yrs in Zimbabwe which made me aware of the african wildlife and lead to my series of
Endangered Animals
. I love elephants and rhinoceros and paint them to highlight the demise of these magnificent species through poaching.When I went to  USA,I was able to paint very consistently  & exhibited my paintings  locally & regionally & took part in juried shows .  More recently, settling  in Perranporth, Cornwall, in 2021. My work is influenced by these fascinating places and the interesting characters I have met along the way. I am deeply passionate about nature and have been struck by the distinctive Cornish landscape. My art reflects an abstracted vision of my connection to the environment.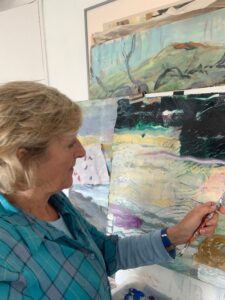 Notably, my paintings have been exhibited in New York & Washington DC , as well as in galleries in Maryland, Delaware and Virginia. I have won awards in national, juried painting competitions in the USA
.
In 2022,
The Royal Society of British Artists
juried my work into their annual London show. My work is enjoyed in private collections in the UK, Australia, America, and Africa.